Tours start at 9.30 am . Our private group tours take up to 4 people to four Outlander filming locations. We also offer bespoke private tours with the option of choosing your own itinerary .
Tours start from locations in Edinburgh or Glasgow .
Normal pickup point is Edinburgh/ Glasgow city centre , your hotel or the airport .
Other pickup points can be arranged , subject to an additional fee .
Itinerary
1. Culross (Cranesmuir)
2. Blackness Castle (Fort William)
3. Midhope Castle  ( Lallybroch ) if available
4. Linlithgow Palace (Wentworth Prison)
On this tour we visit various locations used for filming the hit series Outlander. Based on the best selling novels by Diana Gabaldon, Outlander is filmed in a number of locations in castles and towns in  central Scotland.
The first location on this Outlander tour is Culross (Cranesmuir)


Blackness Castle goes back to 1440 . The castle provides the setting for Fort William, as the original fort no longer exists.
The castle is long and narrow because of the shape of the rock on which it is situated and it is sometimes called ' the ship that never sailed ' . It guards the bay at Blackness and is only a few miles from Linlithgow Palace . The first castle was built in the middle of the 15th century by Sir George Crichton , Earl of Caithness , a member of one of the most powerful families in Scotland . King James II acquired Blackness in 1453 when he annexed the lands of the Crichtons . From then on the castle was mainly used as a prison . In 1543 Cardinal Beaton was held here for a month . Rebuilding started in the 1530s under the direction of Sir James Hamilton of Finnart who also worked at Linlithgow Palace and Stirling Castle . He was instructed to make the castle safe from artillery , and he achieved this by making the south and east walls very thick . A new tower was built at the south end . In the 1560s , in the reign of Mary Queen of Scots , a Spur was built to protect the main gate . In the 1870s the castle was the main ammunition depot for Scotland .The Castle is a popular location for historical re-enactments and has changed little in 600 years . Doune is one of the best preserved medieval castles in Scotland.
Hamlet has scenes filmed at Blackness Castle and Dunnottar Castle.
Director: Franco Zeffirelli
Starring: Mel Gibson, Glenn Close, Paul Scofield, Alan Bates, Ian Holm, Helena Bonham Carter, John McEnery

Midhope Castle – Outlander's Lallybroch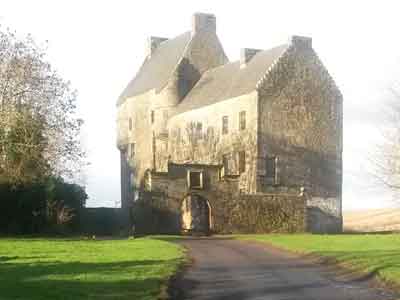 Located on the Hopetoun Estate is Midhope Castle which is the external location for fictional Lallybroch, the family home of character Jamie Fraser. Midhope Castle dates back to the 15th Century and although the exterior is relatively intact the castle is derelict inside.
Most of the filming takes place in Scotland,  according to the show's executive producer Ron Moore .
Scotland's stunning landscape, with its rolling hills, rugged mountains, picturesque towns and villages, castles and sprawling beaches has provided the perfect backdrop for the world of cinema.
The show is based on American author Diana Gabaldon's series of historical novels, which sees nurse Claire Beauchamp Randell mysteriously swept back from 1945 to 1743 Highland Scotland where rebellion and romance are afoot.  Executive Producer Ron Moore has commented on Scotland : "The landscape itself is a character in the show. There's a particular quality to the light in Scotland, even to the grass and the trees."
Scotland tours from Edinburgh can be booked online .
Outlander season three is on air now . Filming for season four is taking place now in various locations in Scotland .
The tour spends about an hour at each location .
Travel by luxury car
Small private group tour with a maximum of 4 people
Tour costs – £250 for 2 people .
Lunch , refreshments and entrance tickets are not included in the price.
Outlander set locations tour from Edinburgh £250.
For bookings phone 07305-294773 or contact us online .
[wpecpp name="Outlander set locations tour from Edinburgh" price="250.00″ align="center"]